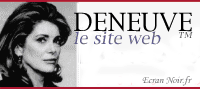 Interview published in The Advocate (July 96)
Playing a love scene...
IF I SAY I WILL be playing a love scene with another woman where there is kissing and touching, then suddenly it isn't about the film. ... It's not anymore the role but the actress. It is all about me touching another woman.

Lesbianism....
I CANNOT IMAGINE having a physical relationship with a woman. I have not done that. But I really love women. I have a very strong relationship with a woman that I have known for a long time. I knew her for some time before I knew that she was a lesbian, but that never changed anything about my relationship with her.

The Hunger with Sarandon...
THERE WAS A body double, yes. We both used body doubles. It is true. I confirm this.
(Deneuve, about the rumor a body double was used in The Hunger vampire film)
Really? Thousands of lesbians just read that and wept.
Not the whole bed scene [with Susan Sarandon], no, but there were some images with body doubles.

Deneuve, the Magazine (and now Curve)
... IT IS A LESBIAN magazine, so lesbians will think I am suing them. It's not true. It does not matter what the product is-whether it is perfume or a magazine. My name is a commodity, and you cannot put it on something without my permission. It is not fair. I hope people will understand the real issue here.

A.I.D.S. and death....
I HAVE LOST friends to AIDS, and I have been again living through those painful sensations. What is very different for me today is that there are other people to grieve with. There are so many friends who have also lost people to AIDS and, yes, cancer, that we can share this.