40 years with a myth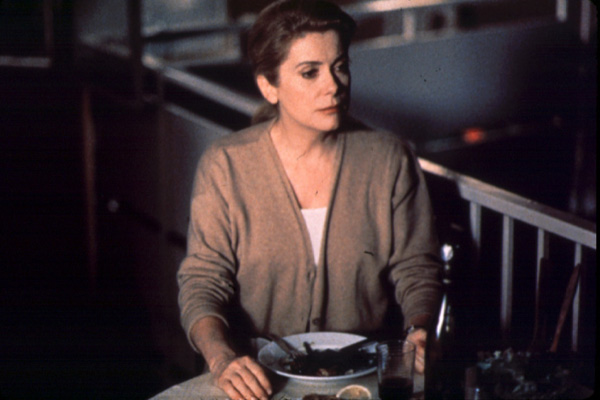 She was princess in the Sixties, then the ideal woman, became Queen of a macho-cinema, and is now its empress.
The career of Catherine Deneuve is unique in the world. Which actress of the 60's has her stature today?
In the French movie industry she is one of the four best paid actresses, in the world industry some of her older films have become masterpieces and many of her more recent are exported on her "trade-name."
Among the actresses, her aura and the perenniality of her success make her one of the last myths of the century along with Sophia Loren and Katherine Hepburn. She is the model of elegance and style; a long-time protege of Yves Saint-Laurent she has her own line of beauty products, Deneuve Perfumes.
She is regularly quoted in the fashion magazines, and has been photographed by the greatest. The face of French heroine Marianne in the Seventies, she succeeded in masking her private life while crossing the times.
...Because Deneuve has changed as the cinema has changed...
Venus of the greatest screenplayers
Completely ousted from the Nouvelle Vague (contrary to Bardot, Belmondo...) she played her most outstanding roles in the Sixties.
Working with directors as different (and sometimes new) as Polanski (suspens), Demy (musical), Rappeneau (comedy), and Bunuel (erotic dramas), she lent her face and an emerging talent to directors who led her to Cannes, Hollywood, and the road to glory worship.
The popularity of Deneuve was born in these years with her wide successes, but her qualities as an actress were not recognized yet. The end of the 60's brought drama (with the death of her sister, actress Francoise Dorleac) and a director named Truffaut.
Always searching for the best scripts, directors and roles, Deneuve is faithful to those she works with. The directors: Truffaut, Rappeneau, Bunuel, Demy, and Techine (four films); and the actors: Mastroianni, Noiret, Auteuil, Montand, Delon, Bohringer, Piccoli, and Depardieu (five films).
Oddly, except with Francoise Dorleac, Susan Sarandon, and Danielle Darrieux, she hasn't had remarkable pairings with other actresses.
Marianne, post-Bardot
The Seventies, with the public's fascination with Romy Schnieder and Annie Girardot, are Deneuve's downbeat years.
There are a few quality partnerships, most notably with Berri, Lelouch, and Yves Robert, but her trajectory is saved by the number of films she does and the occasional hit like Lovers Like Us.
Deneuve is mainly a popular beauty, which is not well adapted to the realistic cinema of Blier, Pialat or other new directors of the 70's. Her roles are mostly in comedies, where she plays the part of the frivolous, attractive, beautiful blonde.
If internationalisation was her aim, it is the Seventies that fail her.
The Last Metro, the milestone
The genius of Truffaut was taking bits of Deneuve's first film with him, Mississippi Mermaid, placing them in a less black context, and giving Deneuve the role she needed, that of a mature woman.
The Last Metro, for which she receives her first Cesar is her 20 year life achievement, the maturity of a clever woman, her graceful beauty, and, finally recognized, her magnificent talent.
In this "Adjani" period, Deneuve risks everything and begins her career again.
When the audacity breaks the ice
The risk is in the radical change of her choice of roles. By choosing to play common women, neurotics, broken women, she attracts newcomer Tony Scott, but also Alain Corneau, Andre Techine, or controversial director Jean-Pierre Mocky.
Then, deliberately, she changes her image again. It is her survival. Again, she lends her image to young directors like Dupeyron, but also dares to alternate with popular comedies like The African. It is a unique moment in French cinema history.
The Nouvelle Vague is forgotten, Belmondo and Delon shoot with big guns Schneider and Signoret die out, Bardot is retired, Moreau's on the stage, and Girardot is on the sidelines. Her competition is there; namely Baye, Marceau, and Adjani, but Deneuve is the now the symbol of a completed time, and she is its queen.
In 1986, she presents Scene of the Crime at Cannes. She's on the cover of the popular Premiere and the intellectual Cahier du Cinema the same month.
Since 1986 she has been to Cannes 4 times, once as co-President with Clint Eastwood in 1994. Her value will only increase in the 90's.
Indochine, the Renaissance
Marc Esposito, co-founder of Studio Magazine, wrote, "a star needs a masterpiece every decade to continue to shine." For Deneuve in the 90's, that masterpiece is Indochine.
Released in 1992, Indochine propells Deneuve to honor like never before; Oscars, Golden Globes, and Cesars. Deneuve is unique and reigns as an icon in an art which seeks an icon. She is admired internationally; in the U.S her last four films have been seen more than any of her others.
With a career so rich, contradictory, and tormented, she has become a symbol. Kathleen Turner or Meryl Streep quote her as an example. Her characters are always daring; either lost in search of a lost goal, distant and surviving, or on the edge of reality.
Even a newspaper such as Liberation which is not very star-oriented has qualified her work as "perfect, imperial."
To act or not to act, following Darrieux rather than Garbo
Named by Gala as the world's most beautiful woman, and glorified by the New York Times, Deneuve has built a bridge between the mainstream audience and artsy directors. Chilean's Ruiz, Portugese's Olivera and edgy's Carax have used her ability to keep a certain idea of cinema alive.
At the same time Deneuve is aware of the limits of this capacity. She has reached a critical age for an actress and a certain amount of success is necessary to remain on the front lines. It would be a shame to wait until her retirement to celebrate this great lady's service to her art.
For, when we speak of Deneuve, we don't speak of a myth, but of an ideal. French actress Sandrine Bonnaire said recently about Deneuve: "she has a such career!".