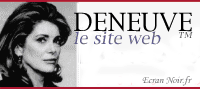 Ambassadrice de l'Unesco
Communiqué de presse officiel

L'UNESCO NOMME CATHERINE DENEUVE AMBASSADRICE POUR LA PRESERVATION DU PATRIMOINE CINÉMATOGRAPHIQUE.

Le directeur général de l'Unesco Federico Mayor a nommé ce soir l'actrice française Catherine Deneuve ambassadrice pour la sauvegarde du patrimoine cinématographique mondial.

Durant la cérémonie de l'Unesco, Monsieur Mayor a déclaré:
"En tant que personne qui est connue et renommée vous avez réussie en affirmant votre propre personnalité, vos propres convitions, en étant à l'avant garde des combats pour les Droits de l'Homme et ceux de la dignité de la femme".

"Le patrimoine cinématographique mondial n'est pas uniquement un point de vue artistique", a-t-il ajouté. "Il s'agit d'un témoin de notre temps, de notre siècle. Nous vivons un moment d'espoir et nous sommes conscients qu'il nous faut le partager." Monsieur Mayor a alors présenté Mademoiselle Deneuve dans ses nouvelles fonctions.

Mlle Deneuve a dit: "Le cinéma a enrichi ma vie. Je suis heureuse d'avoir l'occasion de participer à sa préservation, et ce à travers le monde."
Catherine Deneuve présidera la Fédération Internationale des Archives de Film de l'Unesco. Elle sera aidée par les réalisateurs Nagisa Oshima (Japon) et Gaston Kabore (Burkina Faso).

UNESCO's Ambassador
Official Press Bulletin
UNESCO NOMINATES CATHERINE DENEUVE AS AMBASSADOR FOR PRESERVATION THE WORLD FILM HERITAGE.

The General Director of the cultural organization UNESCO Federico Mayor tonight appointed French actress Catherine Deneuve ambassador for preservation of the world film heritage.

During the UNESCO gala, Mr. Mayor stated:
"A renowned public figure, you have attained success without compromising your character and your convictions, and were one of the first to speak out for human rights and the dignity of women."

"The World Film Heritage is not just an artistic concern," he added. "It serves as a witness of our time, of our century. We live in a time of hope, and we know that we must share it." At that point, Mr. Mayor introduced Miss Deneuve as ambassador.

She spoke: "Movies have enriched my life. I am happy to have the opportunity to support their preservation worldwide."
Catherine Deneuve will preside over the International Federation of Film Archives at UNESCO, where she will be assisted by directors Nagisa Oshima (Japan) and Gaston Kabore (Burkina Faso).